Sha'tra the Skyhunter Edit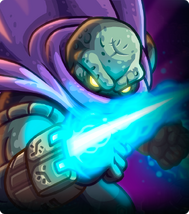 Sha`Tra comes from a race of warriors from a destroyed world, a race of hunters almost extinct,
He has traveled dozens of worlds, fighting in hundreds of battles and defeating thousands of enemies. Now his hunter instinct has brought him to us. Sha`Tra has some tricks under his alien sleeve. He can call his probe ship to abduct an enemy, and in the process deal double damage and win a few credits. He also has the power of summoning a fighter squadron (or even special fighters) that will obliterate anyone near him. It is rumored he possesses mysterious a gem that allows him to increase his health and reduces his recovery time so he can return to battle faster.
Description
Edit
Sha'tra is a paid hero. He originally appeared in kingdom rush frontiers, another game from Ironhide game studio. He is an alien that seems to be based on both the protoss from the Starcraft franchise and the predator from the Predator franchise. He looks like the former and uses energy weapons similar to their's, but has a lot of predator gear and seems to have a similar lifestyle to them (hunting lesser beings as a way of life), and also has an outburst in which he nearly tells the player he is a predator. He seems to have been given the role of connecting the two Ironhide continuities, as he has taken the main kingdom rush MacGuffin, the tear of Elynie, into the midst of the planetary wars the iron marines are fighting and is even using it in battle.
Strategy
Edit
| Abilities | Icon | Update 1 | Update 2 | Cooldown |
| --- | --- | --- | --- | --- |
| ABDUCTION: Calls his probe-ship to permanently abduct an enemy. What kind of encounter is it when an alien abducts another alien? | | Taxonomy -within a few seconds after an abduction, Sha'tra's attacks deal double damage. | Taxidermy - Every abducted enemy generates a few Credits. | Slow |
| PURIFICATION PROTOCOL: Summons a fighter squadron to swipe and clear the area surrounding Sha'tra. They don't come in peace. | | Spread Strike - Purification Protocol's fighters can swipe a larger area. | Red Squadron - Purification Protocol calls special fighters that deal more damage. | Fast |
| LINIREA'S GEM: Sha'tra takes souvenirs from every world he visits, like this myterious red gem that increases his health and death explosion. | | Fiendish Power - A chance to reduce respawn time by half. | Vampiric Glaive - A fraction of the damage dealt with his throwing weapon heals Sha'tra. | Passive |
Enik maa'daa soee.
Any time... (Chosen on the hero select menu)
What the shell are you? (using Abduction)
I didn't join your cause to stay here doing nothing. I am a pre.. hunter.
I miss my time in Lineria.
Edih'nori.
Nayy.
Of course I speak your tongue, I just love anagrams.
Leo'han.
Aypairam. Osir Edith.
Ack en'la.
Anilorac.
Aiyunita.
Ayfoss.
Shot happens... (using Purification Protocol)
Adda'matei.
Community content is available under
CC-BY-SA
unless otherwise noted.